Awards
BRUCE DART WINS NORTH EAST PA. PHOTOGRAPHER OF THE YEAR FOR 5TH TIME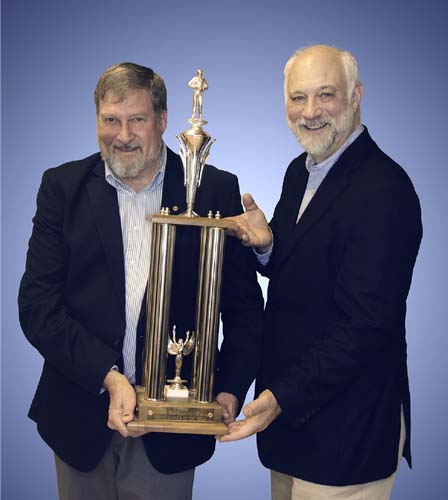 New Milford, PA -- Bruce Dart, , owner of the Photos by Dart Portrait Studio in Mansfield, has been selected for the fifth time by the Northeast Pennsylvania Professional Photographers Association (NPPPA) as the Vincent DePiante, Sr. Photographer of the Year.
Dart received the award here recently during the association's fall meeting. Named in memory of Shamokin, Pa. photographer Vincent DePiante, Sr., the prestigious award carries a "traveling trophy" which Dart keeps for one year until a new winner is selected. Dart is the only NPPPA photographer to win the award five times. Several others have won it twice.
Vincent DePiante, Jr. who established the award in memory of his father, was a friend and mentor, to Dart. DePiante, Jr. passed away in 2004 after a struggle with cancer. DePiante, Sr. was one of the founders and charter members of NPPPA. Dart earned the award by having the highest cumulative point score of all prints entered in the NPPPA's print competitions in 2016-2017 year. A total of twelve portraits competed for honors, four at each of the three competitions. He
previously earned this trophy in 1995-1996, 2004-2005, and in 2007-2008, and in 2012-2013.
A member of the NPPPA since 1977, Dart served as president of the organization in 1986-87 and again serves as presiudent currently. He is also president and a member of the Northcentral Pennsylvania Photographers Association.
Recognized as a Certified Professional Photographer (CPP) since 1986 by the Professional Photographers of America (PPA,) he has now qualified for recertification six times. Every five years a CPP must complete a number of hours of continuing education at seminars or achieve recognition at print competititions. Dart has done both as a member of PPA since he began his business in 1979.
Over the years Dart has been a member of six professional photography organizations -- each offering seminars with some of the nation's foremost photographers. He studied for more than 10 years at the Triangle Institute of Professional Photography in Pittsburgh, completing as much as 50 hours of instruction during the comprehensive week-long classes with top instructors.
In 2003, Dart earned the Photographic Craftsman Degree from PPA. To complete requirements for the degree, photographers must earn 11 education and service merits along with 14 merits as a speaker for affiliated professional photography associations. More recently, he reached 25 additional merits and was awarded a gold bar to place on the degree ribbon.
Taking a very active role in his community for more than 30 years, Dart has served on the board of numerous organizations, including Mansfield Borough Council , and the Mansfield Chamber of Commerce where he directed their Youth Leader of Tomorrow Committee for 32 years. He serves as Commander of the Austin Cox American Legion Post 478, following in the footsteps of his father, Doug Dart, who passed away in 2012.